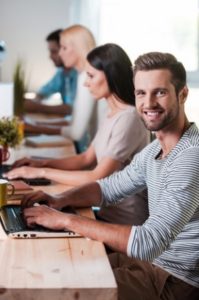 If you are on the prowl for a managed service provider (MSP), you are likely a bit flustered by the options. Some MSPs offer services from afar. In fact, some such companies service clients from overseas. However, there are numerous advantages to allying with a local MSP. Let's take a look at why IT support in Albuquerque should be provide the service your company needs.
Accessibility
One of the best reasons to ally with a local MSP is that this organization operates within your time zone. Imagine a situation in which a tech emergency occurs. An IT support provider in Albuquerque will be available during the morning, afternoon or possibly even the evening to lend assistance.
Which cannot be said for a company located in another country and time zone. Though it will be difficult to find a partner that operates around the clock, it will certainly help if they are capable of solving problems when your business is active.
Easier to Connect
Allying with a local MSP allows for an easy connection. You can reach out to a local company with an in-person visit, by phone, on the web and so on. Select the communication method you are most comfortable with and you will be interacting with your tech gurus in moments.
On-site Assistance
A local MSP can send people right on over to your business in a reasonable amount of time. Though many operations can be done from afar, there will always be certain problems that must be solved in-person. It is quite convenient for a local MSP to send a technician over to implement a timely solution. This way, there is no need to rely on a third-party service provider contracted by an MSP stationed in another city or country.
Full Understanding of the Albuquerque Market
A local MSP has its finger on the pulse of the Albuquerque market. Each market is highly unique in regard to available technology such as access and web speeds. Knowledge of competitor capabilities also matters a great deal. An IT support team in Albuquerque will have a thorough understanding of the local industry standards so you can maintain a competitive advantage.
The Peace of Mind You Deserve
Local MSPs provide peace of mind. You will rest easy knowing someone is within a reasonable driving distance of your office. This is the assurance you need to operate your business without fear. If an emergency tech issue arises, your local MSP can be on-site in half an hour or less. Such immediate problem resolution will minimize the level of disruption and keep your business operating like a well-oiled machine.
Similar Organizational Culture
Though company culture can differ based on the nuances of each organization, there is something to be said for a region or city's overarching culture. A local provider is inclined to share similar values and cultural norms as your organization.
At Net Sciences Inc., our IT support in Albuquerque will manage your network so you can key in on what you do best. We provide managed IT services, business continuity services, general IT consulting, virtual CIO services and data security solutions. Contact us and let us handle your tech challenges so your team can focus on adding to the bottom line.