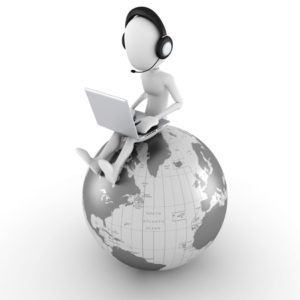 Once your company reaches a certain level of activity or a certain size, relying on your in-house tech specialist for all help desk support is no longer feasible. It eventually becomes necessary to lean on another group for remote help desk support. Let's take a look at why it is wise to outsource help desk support to a group of managed IT services professionals in Albuquerque:
Solve Problems Quickly
Remote help desk support is essential to solving problems in a timely manner. If your staff needs immediate assistance, the remote help desk can provide instantaneous help through chat, phone call or by sharing the screen through remote technology. There is no sense in filling out a ticket and waiting days or week for someone to arrive. The ultimate result is a happier and more productive staff that does not have to leave their desk to obtain tech assistance.
Assistance That Benefits Everyone
Proper IT support is essential to worker's productivity as about every employee uses a computer for work. If everyone has access to assistance through the remote help desk, productivity will skyrocket. It is quite the contrast to relying on your in-house team to spend an abundance of time attempting to solve computer issues. These professionals also have additional IT tasks to tend to beyond help desk support.
Remote Help Desk Support Facilitates the Tech Learning Process
One of the primary advantages of remote help desk support is that employees can see the IT technician solving the problem in a remote manner from their own screen. This is an excellent opportunity to learn how IT experts solve tech issues. Observing the problem solving process first-hand might even motivate your employees to troubleshoot subsequent problems before they reach out to the experts in the future. The end result is additional free time for your tech crew and a much more skilled workforce.
Fast and Effective Assistance
Remote help desk support is applied extremely quickly regardless of whether the managed IT services group is in Albuquerque or elsewhere. There is no need for the technician to travel to the workplace to solve the problem. Most tech issues can be solved in a remote manner. It is the best way to get your employees back to work in a timely manner with computers that function without flaw.
Satisfied Employees
Consider the perspective of your employees. They can request assistance and quickly receive a response. They won't have to abandon their computer so an IT professional can sit in their seat to solve the issue. Rather, they will watch the help desk agent tackle the problem in a remote manner and possibly even learn about the specific cause(s) of the issue. This is better than the comparably tedious process of waiting for a tech professional to find the free time necessary to solve a computer woe and return the system to normal. Increased employee satisfaction and understanding leads to a higher retention rate, more productivity and fewer problems across posterity.
Net Sciences, Inc. is here to help. We are your virtual IT department. Whether you are looking for managed IT services, IT consulting, digital security consulting, virtual CIO services or anything else tech-related, our managed IT services team in Albuquerque can help. Contact us today to learn more.