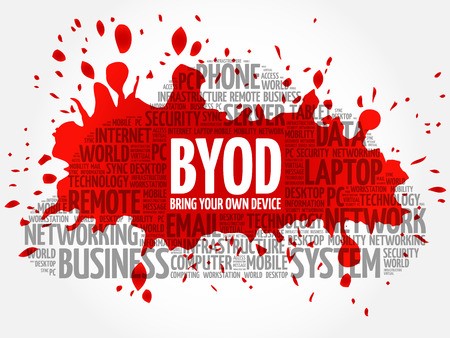 Employees bringing their own devices to work has become increasingly popular. An IT services company in Santa Fe can help you create a bring your own device (BYOD) policy that is safe and beneficial for your company. Allowing employees to bring their phones, tablets, and laptops can increase productivity and boost morale within the whole company. While a BYOD policy offers many benefits, it is also accompanied by a few risks. Here are some things that you need to consider in creating a BYOD policy:
What Happens to a Lost Device?
A device can be lost or stolen at any time, so it is important to have a continuity plan in place for this unfortunate scenario. An IT company can remotely wipe the unit clean, but the employee must give them the authority to do this in an emergency situation. As you know, an employee's device can store confidential work-related information, so it is imperative that this information is deleted before it falls into the wrong hands. Each employee should sign a permission slip that allows the IT provider the ability to take these safety precautions, since they are in the best interests of the organization.
Who Is Responsible for Updates?
One of the main advantages of using an IT services company in Santa Fe is that you will receive the latest updates on technology that can boost productivity and keep your company safe from malicious threats. While these security updates offer many benefits, it is very important that each employee installs them as soon as possible. As you know, some employees are not as responsible as others, and they may tend to put off a security update, which can result in devastating consequences. Fortunately, an IT provider can create a setting so that each update will be automatically applied after business hours. This will ensure that each employee has access to the newest updates without manually updating each device themselves.
How Are Backup Procedures Handled?
Installing data backups is a critical service offered by an IT provider. With various sets of data being used on employee's devices, it is vital that they follow proper data backup procedures. Instead of solely relying on employees to perform data backups each night, a managed service provider can automatically upload these backups through the use of cloud technology to an offsite cloud server. Ultimately, this saves much needed time and makes the jobs of each employee easier.
The creation of a BYOD policy plays an essential role for any company in need of IT services in the Santa Fe area. Understanding what happens to a lost device, who is responsible for updates and how data backups are handled are all critical questions that you must consider regarding a BYOD policy. Net Sciences, Inc. is a trusted IT company that has been helping businesses take advantage of technology since 1990. We will help you create a BYOD policy that makes sense for your company, and it will play a vital role in helping your business remain safe and secure in today's work environment. Contact us today and we can set up a meeting to discuss how we can create a specific BYOD policy to meet your company's needs.